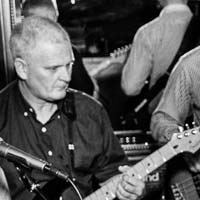 Ian
Rhythm Guitar
How did you get started?
Was a big fan of Steve Howe, guitarist with Yes, as a teenager so Dad bought my brother and I a Gibson SG copy together with an old bass amp.
Who's your hero musically? Who influenced you?
Heroes are Jimmy Page, Dave Gilmore, Santana, Jeff Beck, Donald Fagen and Walter Becker. Most influenced by Steely Dan and of course, my younger brother, Ade!
Any previous bands?
The PitZ that formed in 2008 and played gigs through to May 2010.
What instruments do you play?
Fender Stratocaster, Fender Telecaster and Gibson Les Paul.
Any interesting facts?
Only those that give my age away! Doing my first gig in 2008 was the most terrifying experience of my life! Got arrested with a couple of pals after student pub crawl outside the Knightsbridge Casino for nicking a milk bottle from the door step of the famous Spaghetti House!
---