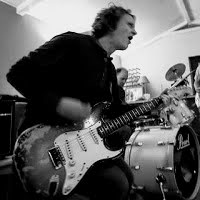 Adrian
Lead Guitar
How did you get started?
Started a band at school doing Stones, Velvet Underground and James Brown covers. We did a few gigs in the Stockport area mainly.
Who's your hero musically? Who influenced you?
I've been influenced by many players over the years. In the early days it was players like Keith Richards, Andy Summers, Robert Fripp and the James Brown funk guitarists, Jimmy Nolen and Catfish Collins. In latter years I've studied jazz guitar with the amazing Manchester based player Mike Walker.
Any previous bands?
A fair few over the years. After the school band I was in an indie punk Stooges band called the 'Drowned Catz' which was a lot of fun. I then went very indie with 'The Fat Controllers', followed by the psychedelic drone of the 'Beautiful Happiness' who put out a few EPs produced by Sonic Boom of the Spacemen 3 and who were 'big in Italy'. I then went all Acid Jazz in London with 'Mal'. We had residencies at various venues such as The Jazz Cafe in Camden Town and almost did the big record contract thing with Warner Bros but that didn't quite come off.
What instruments do you play?
Mainly electric guitar but have recorded and played bass live. Also an increasingly rusty smattering of keys and a splash of drums.
---