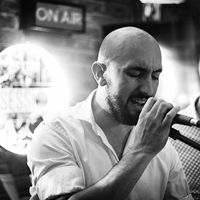 Adam
Keyboards and Vocals
How did you get started?
I grew up around all types of music, one of which being Cajun and Bluegrass which was always on around the house. I loved the style and how they could use any type of instrument and adapt it to the Cajun/Bluegrass style. This, as well as many other factors spurred me to take up Keyboard lessons at primary school and then eventually I've made my way up to and through University where I received professional coaching with singing and keyboards.
Who's your hero musically? Who influenced you?
The Beatles, Jools Holland, Buddy Holly, Stevie Wonder and The Feeling.
Any previous bands?
Appeared a few times on keys with the Bourbon Street Preachers as well as playing with uni bands throughout my course.
What instruments do you play?
Nord Electro 3 keyboard in addition to singing.
Any interesting facts?
Chickens can't swallow whilst they are upside down. I had the same vocal coach as Oasis and was coached on the keyboards by jazz trumpeter Neil Yates who's played with The Lighthouse Family, Robbie Williams and Jools Holland.
---